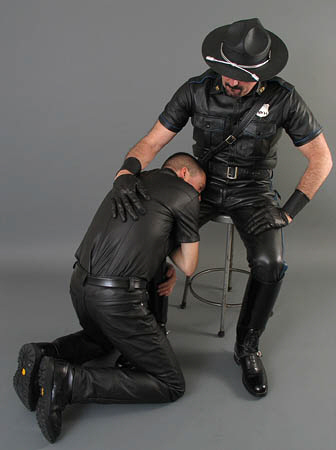 Associate Member since February 2007
slave paul is the Property of Master Trooper Frank, and has been involved in the Leather community since meeting his Master in 1995. In 2007, he was formally Collared by Master Trooper Frank along with his slave-brother willie in a private ceremony. They follow the Old Guard Leather Traditions and the Sacred Principles of Honor, Integrity, Loyalty, Devotion, Service, Honesty, and Love. Their Leather Family is a triad and includes slave willie, of San Jose, California. slave paul has participated in several workshops, demos, and community organizations with his MASTER. The most recent presentations include MASTER TROOPER FRANK'S Nipple Torture Demo, Interrogation Demo, CBT Demo, and as part of a MASTER/slave panel discussion at KinkFest. slave paul owns and operates several Leather Family businesses including Black Hanky Enterprises, an online book, video, and gear store (www.blackhankyenterprises.com) focused primarily on the BDSM community and a web page design and hosting company. slave paul is an active sponsor of/participant in the Denver boys of Leather, the Rose City bois/boys in Leather Service (BILS), MAsT Pacific Northwest (Masters And slaves Together), RCDC (Rose City Discussion Club), KinkFest, Northwest Leather Celebration, Thunder in the Mountains, In The Woods, Leatherwoods, Paradise Unbound, the Portland Leather Alliance, Portland Rope Arts Group, Dungeonmen PDX, and the Salem Kink Library. slave paul was chapter director of the Portland Chapter of MAsT from 2009 until 2010, and was made an honorary member of the Rose City bois/boys in Leather Service for his service to their organization. slave paul was recently made an associate member of the 15 Association. Among his many passions is building dungeon furniture, toys, and gear for his Master's use and enjoyment. Like his Master, slave paul is a voracious reader and avid motorcyclist. he is a passionate pain-pig who can never get enough of his Master's intensity, authenticity, and heart.
In addition to assisting his Master with His workshops, slave paul has also presented and co-presented workshops on a variety of topics including bootblacking, Master/slave relationships, as well as the mental and emotional aspects of living as a 24/7 slave.